So, today I put my 16 year old on a flight to Europe. That was hard. Basically because she has so many problems with anxiety. But I know she'll have a wonderful time once she actually gets there. She called me about a half hour ago, having made it to Atlanta without any issues. Could be cuz she was sitting with Lindsey who has flown with her before, and is a very calming influence on her. Now they just took off for London. Lorazepam and all. Hopefully it will knock her out so she doesn't drive everyone else crazy.
I can't imagine going on such a wonderful trip at the age of 16. It's a European History tour - London, Windsor, Canterbury, cross the English channel by ferry to Paris,(including the Louvre...)and Versailles. Then they take an overnight train with couchette accommodations (see edit below) to Berlin with a side trip to Potsdam. Then they are off to Prague in the Czech Republic, followed by Budapest, Hungary. I'm not sure if they are dong the Danube or not. They then go to Vienna, and on to Salzburg and Munich before coming home. I am so jealous! Maybe someday....
I mean, St. Paul's Cathedral? Notre Dame and the Louvre? St. Vitus Cathedral? Things like Checkpoint Charlie, castles, and really cool cities?
So, if you think about it, keep them in your prayers. Especially Lindsey, Pippy, Jess, Paige and Carissa. I'll share a picture or two when she returns. Oh yeah, did I mention she will be gone almost three weeks?......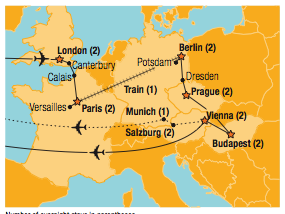 EDIT
this is what couchette accomodations are. (this is specifically from the train she is taking - the Night train between Paris and Berlin)